When Tigger takes his entourage to Cozumel, Mexico he loves finding the wonderful beach experience at the Playa Mia Grand Beach and Water Park. It is truly a one stop shop for all the beach and beach related fun anyone would be looking for on the gem of an island in the western Caribbean cruises!



Food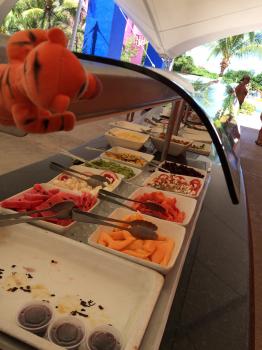 Click to enlarge image
A great buffet is available for your beach-side picnic or in the shade under the grand pavilion!

Finding a place with good food at many Caribbean ports can be challenging at times but the Playa Mia Grand Beach and Water Park offers a fantastic beach-side buffet that is well kept and fresh during serving hours. The cold items are kept cold and the warm items are kept warm as they would be expected. Also, the selection of food allows any guest to find something delicious!

There is also bar services available. Guests can either walk up to one of the bars and order or they can give orders to staff members walking around the area. Service is polite and always accompanied with a smile! And for those that are lingually-challenged it is easy to converse in English!


Covering the buffet and seating area is a grand pavilion that offers generous shade and a place to cool off out of the sun. With ample seating for hundreds of guests at once Tigger has never had trouble getting a seat at any time of the day. It is also kept clean by attentive staff.

Click to enlarge image
The grand pavilion is where to get food or just sit in the shade to cool off for a little while.
Free Beach Activities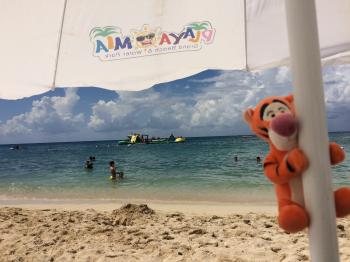 Click to enlarge image
In the distance is one of the floating parks that has been here. It changes from time to time, too.

The BEACH along Playa Mia's water front is clean and safe, too! There are lifeguard stations at either end of the beach and they have boats to make rescues not only along the beach but alos out in the water surrounding the area.

Of the several times Tigger has been here there has never been any debris on the beach as it is monitored very well by staff members

The water itself is clear with a gently deepening swimming area. It is a good safe place for swimmers of all experiences to find fun.

Among the free attractions on the beach there is a very large floating park located a short swim from the north end of the beach (to the right). There is also a selections of kayaks and other flotation devices that are available for a limited time without charge but are available for longer paid rentals.

Also enjoy beach volleyball and soccer in designated areas.



Additional Free Activities

In addition to the beach there are a couple of pools and water themed play areas to meet a plethora of needs. Adults may find the dipping pool by the beach relaxing enough with its swim up bar service.

A second and much newer and larger pool that is kidney shaped offers more space for clean pool time for those not comfortable with being out in the waters of the Caribbean. This pool also comes with an Oasis Hydro Massage Tub at the end of a short foot bridge leading to a small islet in the middle.

Beyond this largest pool to the right are two more areas for even more water fun! The first is a wading pool with fun for younger swimmers as they climb the Pirate ship in Buccaneers' Bay pretending they are fending off attackers or exploring the 'wild life' climbing the various sculptures and sliding down slides. There are also water spray-cannons and an umbrella shaped water fall.

The final pool is the landing spot for two intertwined water slides that twist for 200 feet through each other and landing with a thrilling splash at the end! Try these curly slides once or a lot of times but it is fun for all!



Add-On Rentals and Services

As with many such beach experiences there are also a number of upgrades to your fun. For only $25 guests can enjoy Ictiotherapy at the Blue Fish Spa as the Garra Rufa remove dead cells from the feet and improve circulation as well as cleaning the pores.

Travel weary adults can also catch a massage by the large pool while they are here, too.

Various rentals and tours are also available starting at $15 for snorkel gear and tours, parasailing and wave runners. And if you do not wish to worry about carrying around a camera for the day their professional photographers will capture your day and deliver them in prints and digital pictures for a standard fee.


Mexican Cuisine Workshop Excursion

Although Tigger did not take part in this, several on the cruise did. As good as the food there is that would be a great place to learn to make some wonderful local food! The people that did take part all raved about the experience! Tigger has never cooked with Plantains. That may have to change!





Shopping

As you leave the parking area where the transports drop off guests there are a number of shops and a small Starbucks* for browsing at any time during your stay. The shops range from standard touristy type products to more specialized locally made items. From time to time the shops change but most of the dozen or so shops are normally filled, staffed and open during the day.


* At least it was a Starbucks when Tigger was last there... these things change.
Booked as a Disney Cruise Excursion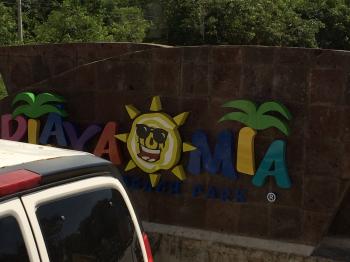 Click to enlarge image
The sign for Playa Mia is clearly visible from the main highway that circles the south end of Cozumel.

When on a Disney Cruise many people will book their stay at Playa Mia through Disney Cruise Line. Even though it is a few dollars more, there are a number of advantages. First and foremost, of course, is the guarantee that you will get back to the ship before departure. Now, obviously, many situations are easily solved by an experienced traveler to the area, but one of the most important situations would be if the transport has an accident or flat tire. Booked as a Disney Excursion the ship will actually wait but if you are out there 'on you own' they will not hold up the ship.

#‎TiggerTravels‬
‪#‎TiggerTravelsSite
#‎TiggerTravelsDotCom‬‬
#Tigger‬

Date taken: 2017 02

Important Links:

Playa Mia Grand Beach and Water Park web site

Playa Mia Grand Beach and Water Park on Facebook

Playa Mia Grand Beach and Water Park on Twitter

Playa Mia Grand Beach and Water Park on Google+

Playa Mia Grand Beach and Water Park on YouTube

Playa Mia Grand Beach and Water Park on Pinterest